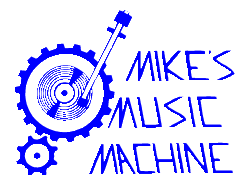 WHAT OTHERS HAVE
TO SAY ABOUT
MIKE'S MUSIC MACHINE
A Letter From Big Sisters
---
BIG SISTERS
Association of Ajax-Pickering

March 27, 1996

Mike's Music Machine


Dear Mr. May:
On behalf of the Big Sisters Association of Ajax-Pickering, I would like to extend our sincere thanks for your support of our 7th Annual "Bid for Friendship" Auction.
The event was a great success thanks to our wonderful volunteers, community friends and generous donors such as yourself.
Big Sisters has experienced tremendous growth in recent years, and the list of children and young women waiting for a Big Sister match has reached an all-time high.
The revenue generated from special events such as our annual auction, goes a long way towards making a difference. It is truly heart-warming to see such a tangible demonstration of community support for our work in Ajax and Pickering.
Thank you again for your contribution.
Sincerely,

Marilyn Cummings,
Executive Director

Next Commentary
[ Reference Index | Back To Home Page | Music Charts | Having Trouble? ]
---
Copyright © 1996 - 2011 M-M-T.COM All Rights Reserved