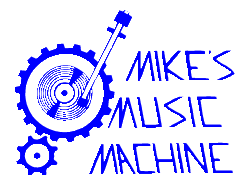 WHAT OTHERS HAVE
TO SAY ABOUT
MIKE'S MUSIC MACHINE
A Letter From The Town Of Ajax
written by and reprinted with the permission of Tracy McMurray
---
TOWN OF AJAX
in the Regional Municipality of Durham

October 9, 1996

Mike May, Owner
Mike's Music Machine


Dear Mike:

I would like to take this opportunity to thank your for your continued involvement with the Youth Dances offered by the Ajax Parks and Recreation Department. We have been running dances and experimenting with a variety of DJ companies for the past 10 years, but our dances have never been as successful as in the past year. Since our partnership with Mike's Music Machine began we have sold out more than 80% of our dances which are offered each month, and due to the success in 1995 we have increased the number of dances we offer by approximately another 40%.
As you are aware the kids love the request format and the magnificent light show you bring each time. I am continually impressed by your professional service and the friendly, fun atmosphere that your dances create for the participants and my staff.
Since my dances are so successful I often have schools, community groups and private companies making inquiries about the company I use. I am very please to recommend Mike's Music Machine to all of them as I know that they will receive excellent service and a tremendous show at a fair and competitive price.
Congratulations on a job well done and I wish you continued success in the future.
Yours truly,

Tracy McMurray
Programmer-Recreation

Next Commentary
[ Reference Index | Back To Home Page | Music Charts | Having Trouble? ]
---
Copyright © 1996 - 2011 M-M-T.COM All Rights Reserved